When Apple released the iPhone 5 earlier this year, it was the company's first smartphone to take advantage of Long-Term Evolution (LTE) networks. Now, a new report shows how the iPhone, along with the updated iOS 6, takes advantage of these 4G networks.
A study conducted by Alcatel-Lucent (sponsor of Enterprise Conversation) found that an iPhone 5 along with the iOS 6 upgrade on an LTE network offered 10 times the speed of the next best iPhone and iOS combination on an older 3G network.
Considering that iOS devices are already a top choice for workers who want to bring their own devices into the office (see iOS: Dominating BYOD Conversations in 2013 & Beyond), IT managers need to keep a close eye on the influx of new iPhone 5 smartphones into the network and how they perform on LTE. Specifically, IT might want to start planning for employees who want to use apps designed to work with the new Apple hardware and software, as well as potential customers who will want to get the full benefit of your business's applications on these new smartphones.
The results from the study are promising.
There are several reasons that users experience such a bump in performance with the new iPhone, according to the report. With iPhone 5, Apple included the A6 processor, which is based on the company's own system-on-a-chip (SoC) design, along with UMTS and CDMA radio enhancements. There are also a number of improvements within iOS 6 that help take advantage of 4G technology.
Lindsay Newell, vice president for Alcatel-Lucent's Marketing Networks Group, wrote in the above blog post that the biggest improvement is the move toward LTE: "However even the triumvirate of a new chip, a new radio and improved operating system features were in the end no match for the massive improvements from LTE."
Global LTE networks are only expected to improve during the next several months, as wireless carriers look to increase equipment purchases. A December 5 report from Infonetics Research found that LTE infrastructure sales increased 131 percent from the third quarter of 2011 to the third quarter of 2012. In addition, LTE subscribers are expected to top 51 million by the end of 2012.
In order to show the performance improvements as a result of LTE, the study looked at the iPhone 4, 4S, and 5, along with iOS 4, 5, and 6. These were all crosschecked on 2G, 3G, and 4G networks that used a combination of different technologies, including GPRS, UMTS, EV-DO and LTE.
While it might be obvious that the latest iPhone and iOS combination works best on the newer 4G network, the study found that the new smartphone also offers better performance on older 3G networks than its predecessors. For example, an iPhone 5 running on a 3G UMTS network offers a throughput of nearly 2,500 kbps. This chart shows the breakdown: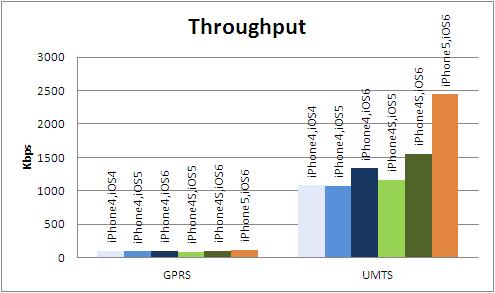 For those still using even older 2G networks, the iPhone 5 offers a 14 percent speed gain and a 27 percent response time advantage.
It's not only the iPhone 5 that offers an improvement. The report found that when an iPhone 4, with an older chip and radio antenna, is upgraded to iOS 6, the smartphone is 24 percent faster on a UMTS network. With an iPhone 4S, that improves to 33 percent. However, the study found that there is no significant bump in performance on a 3G EV-DO network.
So, while Apple fans might still have trouble with the maps app on iOS 6, the operating system at least helps older and newer iPhones alike when it comes to overall performance.